As deputy director of digital strategy for the office of the mayor, Kikora Mason is tasked with making Chicago Mayor Lori Lightfoot the most digitally savvy mayor in the country. But as a web marketing expert, Mason recognizes that social media skills are equally applicable in every field. That's why she attended last week's Titans of Industry: Women in Real Estate conference, to address the room full of agents with tips for invigorating their online presence.
Mason acknowledged three truths about the internet: It is a large space, there is a lot going on and that is not going to change. That can leave most wondering how to stand out. And for that, Mason has five guidelines, or, as she calls them, "The Five Rs."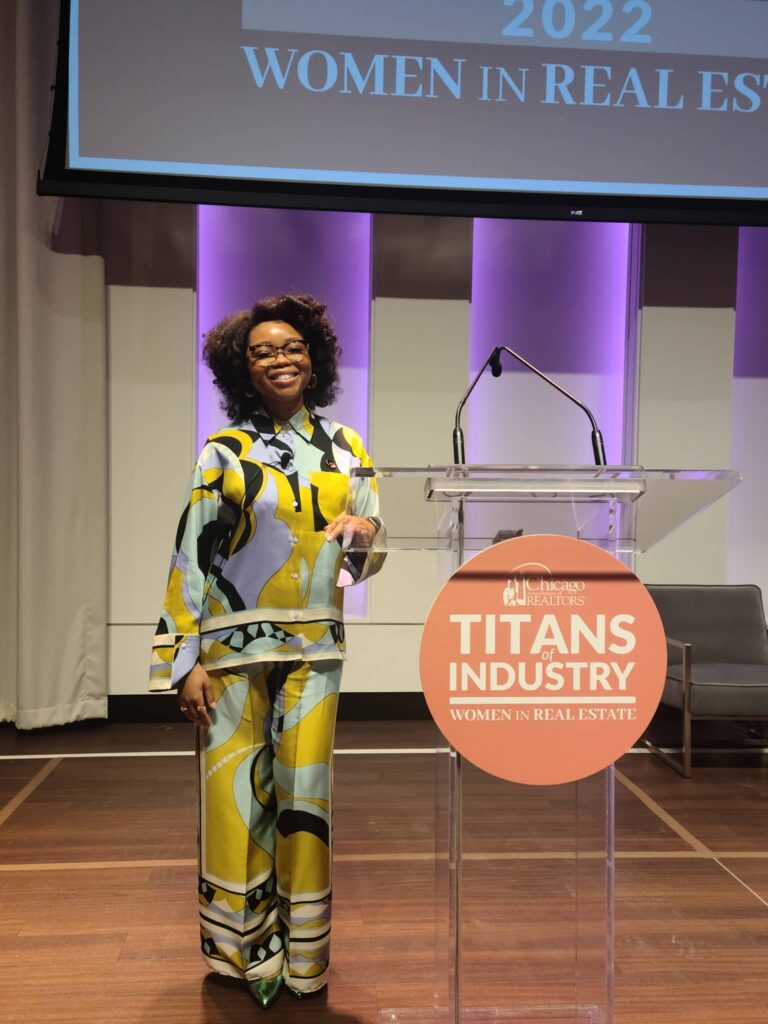 Be real
Above all, Mason advised, don't talk like a robot: "Have fun and be a human in this space," she said. Content needs personality to attract clients, Mason explained. "You don't want to be stiff in the way that you communicate." As an example, Mason cited the actor Amanda Seales who plays recurring character Tiffany on HBO's "Insecure." Throughout the course of the series, Seales gained a considerable internet following for her fresh takes and natural presentation.
Be relatable
"You're not just selling properties, you're selling experiences," Mason said, flexing her understanding of the Realtor brand. But selling an experience requires building trust and connecting with your audience. To do that, she suggested hosting Instagram live sessions with other professionals, creating direct-to-camera Q&A videos and using Instagram Reels, the platform's fairly new recording and editing program.
Be responsible
Most agents are well aware, at this point, that they need to be careful what they say online. "Nothing in the digital ecosystem goes away," Mason said, going on to reference the two well-known, but very different, examples: comedian Kevin Hart and Jamal Simmons, Vice President Kamala Harris' communications director. Both men found their careers jeopardized due to decade-old tweets. "You're not just representing yourself [when you post], you're representing your company," Mason said. She encouraged doing regular scrubs of your social media and, if still you're unsure if something whether appropriate, get a professional opinion.
Be recognizable
Though most of Mason's tips included more tangible strategies, being recognizable does come down to — as she put it — "a certain je ne sais quoi" or pleasing quality that is difficult to describe. To attain that, Mason suggested that agents consider how their social presence will help them stand out in a crowded space. "What is something that keeps people coming back to your profile?" She encouraged attendees to ask themselves.
Be rich
"In each post, make clients feel like you're only speaking to them," Mason said. It helps to be visual and immersive and to imbue the work with personality whenever possible. And to achieve that, Mason offered some surprising advice: "If you have to spend more than 15 minutes thinking about what will go into it, it's probably a bad post." While remaining responsible, Mason cautioned, "Avoid overthinking."
Speaking to Chicago Agent after the conference, Mason also provided additional insight for cultivating authenticity. "What helps is knowing the things you want to focus on in your social media content. It comes off unnaturally when folks are not prepared to enter the space, so they're thinking on the fly." But social media doesn't work like that anymore; the medium has evolved and there is strategy around all of it, she added.
Realtors in particular, Mason said, should choose three areas to focus on when posting. Agents understand their market specialties like the back of their hand, so let that confidence and expertise be a guiding light. "When you know what you want to talk about, it's easier to be authentic," Mason explained, noting that it's still important to have some fun. Using digital platforms to both showcase work and attract new clients is a key aspect of marketing, she said. "Maintaining an engaged audience takes work, but you have to relax," she said. "If you're talking like a robot, it's all for nothing."
More specifically, Mason's emphasized the significance of doing this work on Instagram. "Insta and video content is the now," she said. "And even if it's uncomfortable, [agents] should be pushing that." As the most visual platform, Instagram is home to the largest percentage of social media users, and Mason believes that the core demographic of the real estate audience is on there. Similarly, Mason pointed out, the app TikTok is effective at cultivating communities based on personal interests — there is a real estate audience there too.