We all love our brands, and because of that, we are loyal to them. When we find something we love, we stick to it and buy it again and again. We do the same thing when it comes to finding the right hairstylist, doctor, contractor and, of course, Realtor.
There is no better way today for us Realtors to build our brand (and our business) than by using social media. But it's always a huge challenge to stay on top of our social media and continue to sell homes. Juggling the two can be quite difficult, as both take so much time to do it right, and often it's our social media presence that suffers because of it. However, with today's available tech tools, there is no need to hire a social media manager or a graphic designer to keep your brand and messaging consistent. You can DIY — Do It Yourself!
Here are two ways to manage both and stay on top of it like a pro: One, find the right social media management platform; and two, find a good online design tool that can quickly put together your concepts (even if you aren't that creative or tech savvy) to create posts that reflect who you are and enhance your brand. There are tons out there, so do your research to find what fits your budget and skill level.
I chose eclincher as my management platform because it's simple to use, has great 24/7 customer support and allows me to organize and manage all of my accounts in one central hub. With just a few clicks, I can carry out automated tasks that can be simultaneously posted on multiple platforms — and they have all the major ones I need (not all of them do): Instagram, Facebook, LinkedIn, Twitter, YouTube, Google Plus, Pinterest and even TikTok. It comes with a single inbox so you don't have to move from one platform to another to stay on top of messages, and it makes it so much easier to interact. They have an unending supply of recommended content (including image libraries) that one can pull from and stay fresh. I love the fact that I can plan and curate my posts as far out as I like with their visual content calendar (so easy to plan ahead for holidays) that will automatically post once they are plugged in. This allows me to set it and forget it so that I can stay consistent in my postings and focus my time and energy on my main business, selling real estate! What's even cooler about this platform is that you can boost your posts and monitor their performance with their analytics tracker. This allows me to see what types of posts bring in more engagement and helps me to pivot my efforts to attract more business, and who doesn't want that?
One could get away with merely using this social media management tool, but if you want to up the ante and really come across like an expert, then add on a design tool to create visually striking posts that keep your brand identity consistent across all your platforms. I use Canva, and the good news is that it can be fully integrated with eclincher. So again, everything is in one place, which makes this all super-efficient. With their vast selection of templates and over 3,000 fonts to choose from, all you need to do is change them out to your brand colors, fonts and imagery — it's that simple. They even allow you to set up a "brand kit" so that your colors, fonts and style stay consistent.
OK, so what if you have never defined your brand? Then this is a great place to get started. Scroll through their templates and fonts, and see which ones are "you" and the brand/image that you want to convey to your audience. It's a lot of fun to hunt around and you will know it when you see it. It will feel "right" — just like a homebuyer knows when they've found the right home. Once you have found the one that fits you best, then you need to stick to that theme consistently so that your audience will be able to tell immediately that it's you — THAT is how you build your brand and, most importantly, a dependable following. You can carry that theme into your listing presentations (and Canva can assist you with that, too), print brochures, e-campaigns and all of your print/digital marketing. Once clients see this consistency throughout, they will know they are working with a true professional and will want to hire you to sell their home.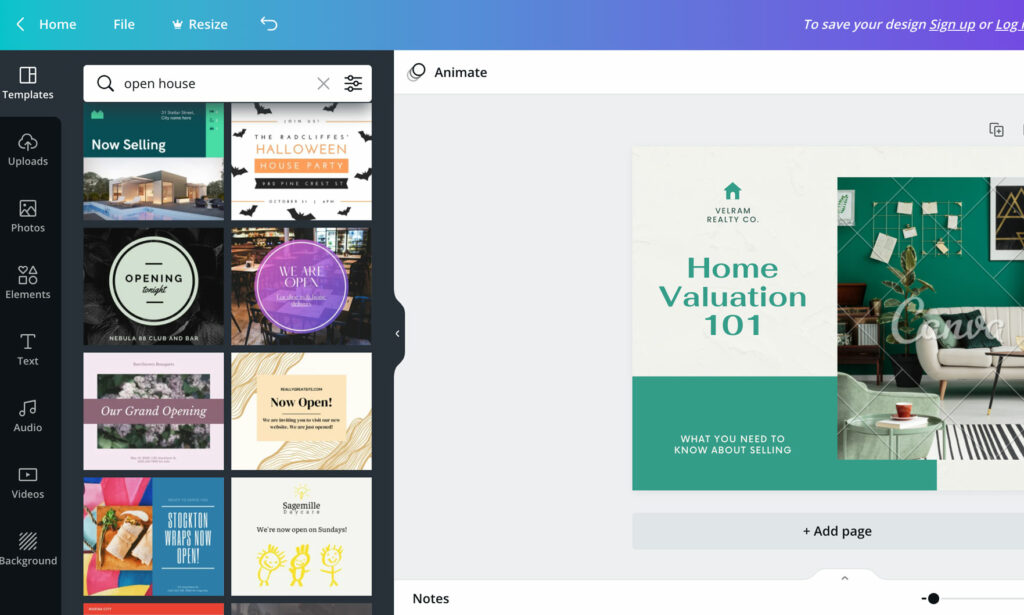 So, no more haphazardly posting random content and discombobulated images on the fly that detract from who you are and how you want to position yourself in your market. Now you can control it, save time, stay consistent and look like a pro by using these tools. Your target market will find you, follow you and fall in love with who you are and stay loyal to your brand, which, in turn, will be a great pipeline for success and bring your sales volume up.
Anne Ewasko is a veteran Realtor in the Chicago area and a longtime techie. Visit her at anne.luxhomechicago.com.