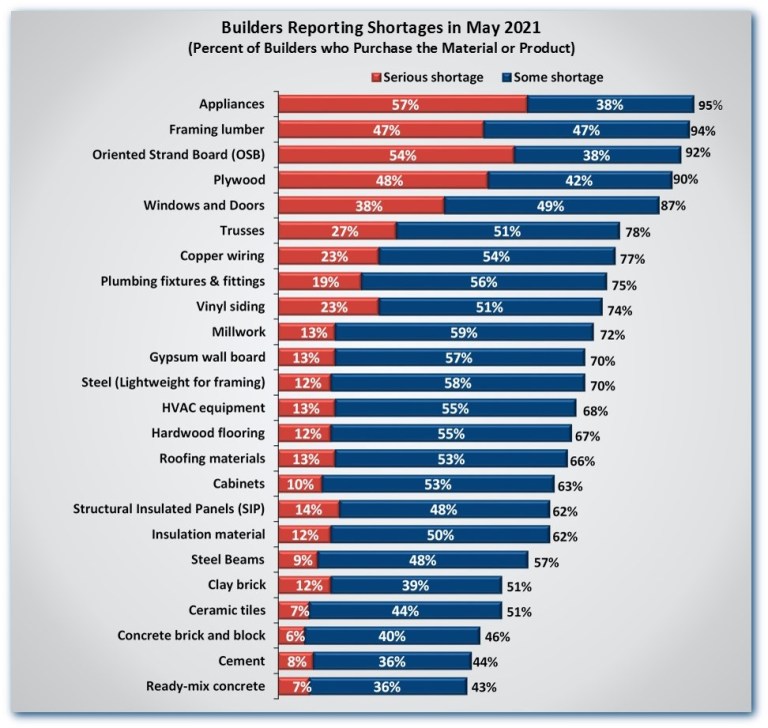 From appliances to plywood, materials shortages are more widespread today than at any time since the National Association of Home Builders began tracking the issue in the 1990s. 
Special questions added to the monthly builder survey for the May NAHB/Wells Fargo Housing Market Index showed 90% or more of respondents had experienced shortages of plywood, oriented strand board, framing lumber and appliances, and most other materials were also in short supply.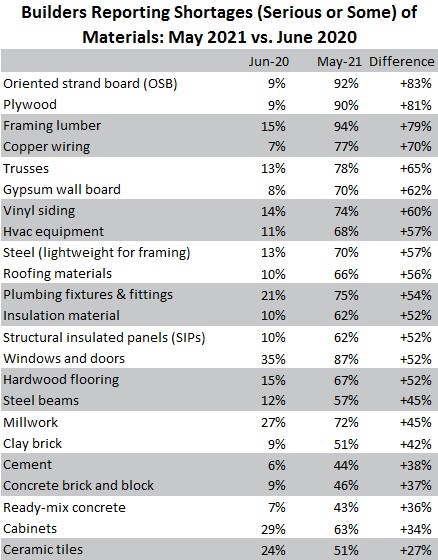 In all, 24 different materials were surveyed, with ready-mix concrete and cement the most available, relatively speaking, with 43% and 44% of respondents respectively classifying them as in short supply.
The last time the NAHB asked about materials availability was in June 2020. At the time, fewer than 40% of builders reported a shortage of any of the materials queried, according to a press release.
In the intervening 11 months, the share of builders reporting shortages increased by at least 27 percentage points for each material, although usually by much more. The shares reporting shortages of oriented strand board and plywood, for example, surged 83% and 81%, respectively.
The NAHB added appliances to its latest survey after receiving anecdotal reports of shortages. The addition of the item was more than justified, the NAHB noted, since 95% of respondents reported sourcing difficulties, the highest percentage for any item ever recorded in the survey.