The National Association of Realtors' weekly flash survey numbers are in and appear to support anecdotal data showing buyer preference changing in response to the COVID-19 crisis.
The survey, conducted from May 3-4, shows that 13% of NAR members who responded have clients who have changed what home features are important to them as a result of the pandemic.
The widespread trend of working from home appears to have sparked a new interest for residences with space for a home office, with 6% of respondents reporting that as a new desired feature requested by homebuyers.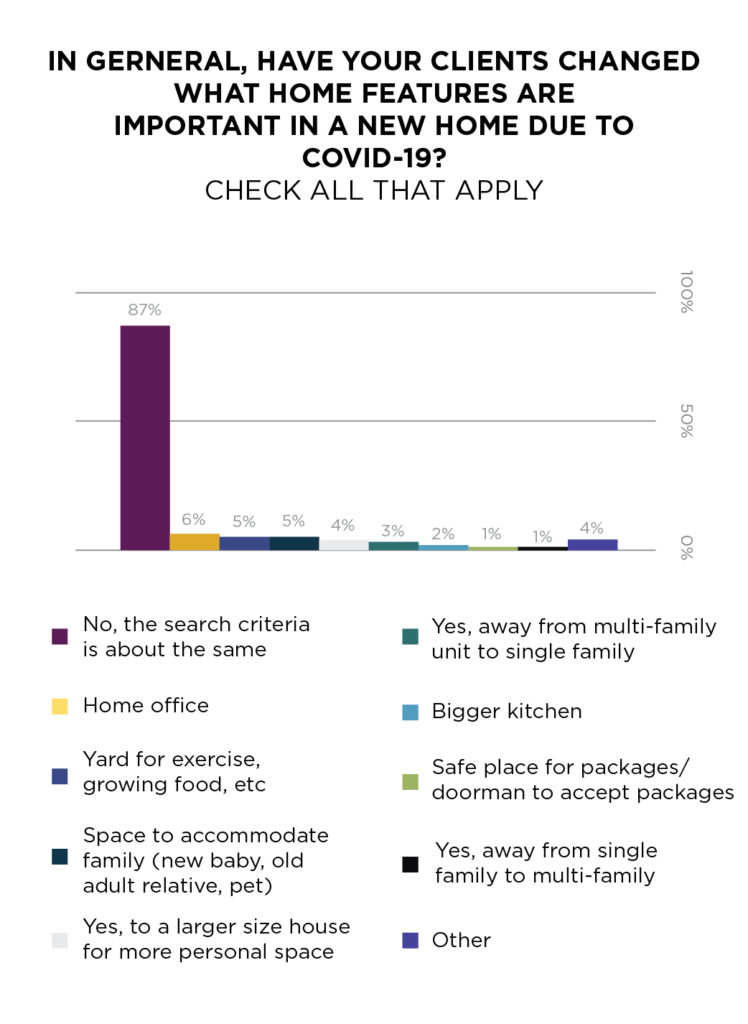 The second most popular new feature requested in response to COVID-19 was a tie at 5% for both a yard and more space to accommodate an older family member, a baby or a pet. Those were followed by the desire for a larger house with more personal space at 4%; moving to single-family from a multi-unit building at 3%; a bigger kitchen at 2%; and both a safe place for packages or a doorman to accept packages and move to multi-family from single-family homes at 1%.
In a separate survey question, 6% of respondents said clients are changing their preference for city versus country living, with 5% reporting clients who are now more interested in rural residences over urban and 1% now preferring urban over rural.

The new figures support comments by Jessica Lautz, the Vice President of Demographics and Behavioral Insights for the National Association of Realtors, who recently said on an internet talk show that agents on the West Coast are reporting hearing clients voicing a preference for rural residences.
For more information on fitting homes to buyer preferences, watch AgentEDU's course on staging and preparing a listing for the market.